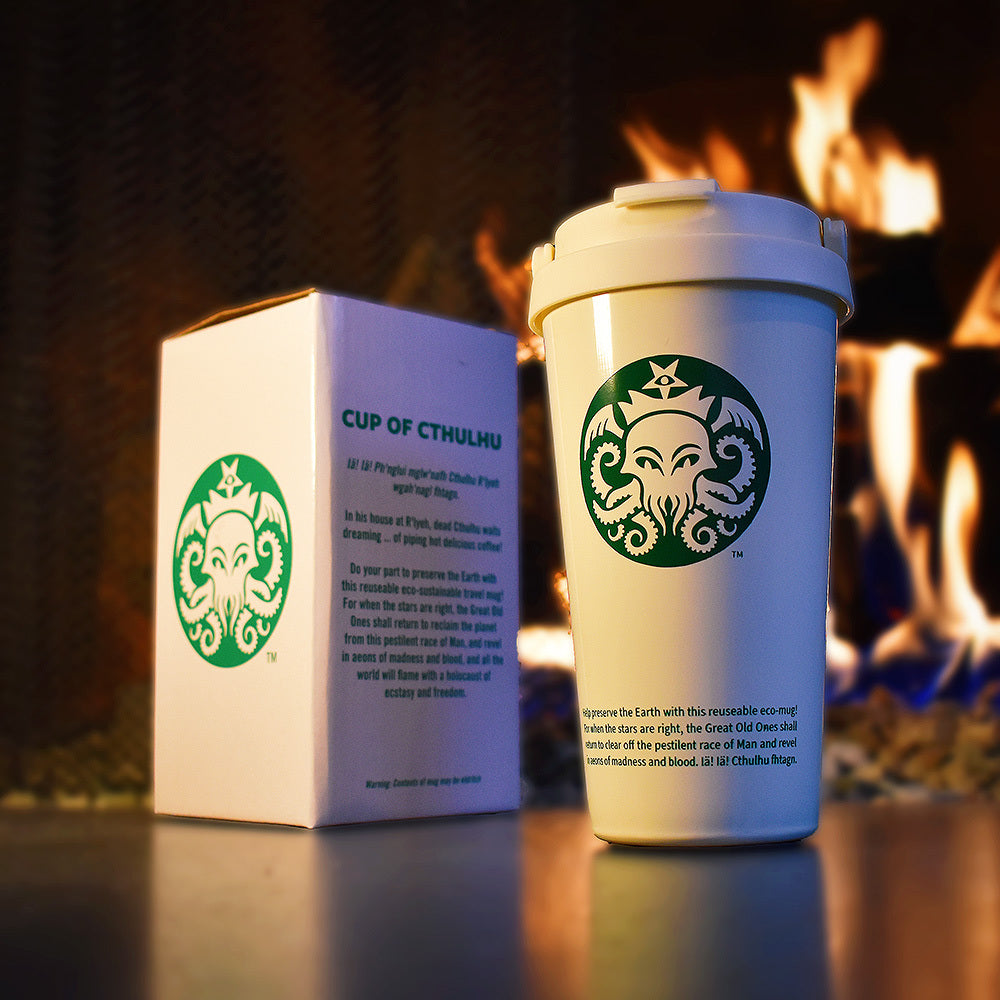 Regular price
Sale price
In his house at R'lyeh, dead Cthulhu waits dreaming... of piping hot, delicious coffee!
Do your part to preserve the Earth (for now, until the Great Old Ones ravage it) with this reuseable, eco-sustainable travel mug! Stave off the madness and despair of early mornings by keeping your coffee hot - or cold, if you're a cold-brew person. It's even got a little ergo(necro)nomic retractable handle to carry it if you're overburdened with sorrow or groceries. 
The double-walled steel mug holds about 16 oz of your drink of choice.
Please hand-wash Cthulhu.
Want more Cthulhu? We've also got our Cthulhu Cult Color-Changing Coffee Cup for leisurely cultist activities, our Cthulhu Tiki Mug for evening libations, and our Sippy Cup of Cthulhu for the Great Young Ones in your life!
is better than it looks, even
The actual item is of incredibly high quality that is not conveyed accurately by the photos. I'm very pleased. Chthulhu fhtagen, 'n all that.
Surprised with Quality
Quality was hard to tell from the picture and I wasn't expecting much. I just thought the logo was hilarious. After receiving the travel mug, I was immediately surprised with those small little things that make this travel mug stand out. There's a little indent for your bottom lip to hug the mouthpiece. The handle has a detent, so over time the handle doesnt just start flopping around and of course it's doubled wall structure keeps the liquid hot for a reasonable time. For the price you cannot go wrong. Great conversation starter!
***Warning people will ask about the Cthulhu logo and after explaining it, some people will classify you as a nerd 😀***
Miserably Brilliant!
I was so overcome with how horribly hot my beverage remained, even when left, untouched and alone, for so long~ Unable to deny it, even if only to myself, I now own three- fearing the first one would be stolen by my family, I purchased two more. I pray they never leave me...
Cup of Cthulhu travel mug
The perfect "Just for Me!" gift. I love coffee and this Christmas gift I purchased for myself is wonderful. Whether I'm watching the world go past as I'm in the passenger seat of the car or I'm sitting at my desk working on an art project, this mug is with me! And, I won't spill hot coffee on myself or my artwork!